Dear Guild Members
I hope this email finds you all safe and well, enjoying the warmer spring weather after a surprise cold snap, and for those of us in Melbourne, looking forward to a highly anticipated return to some semblance of a social life soon!
Whilst the road to "COVID normal" has been long and frustratingly slow for us in Victoria, it has been so heartening to see our interstate colleagues starting to take some of those first steps back into theatres and live performance.
2020 Awards Event Cancellation
In my previous update I shared that whilst we had made the difficult decision to combine to 2020 & 2021 awards seasons we were still considering options with regard to the event itself booked for December 2020.
Given the situation that has unfolded over recent weeks in Victoria and the wait we all still have ahead of us with regard to restrictions being lifted, particularly those to do with large gatherings, it will likely come as no surprise that we have made the decision to formally cancel the event for 2020.
Whilst we are of course disappointed that we will not be able to come together in person as a community this year, I am already excited about the celebration that we will have when we can get back together in 2021. To say we will have well and truly earned it is an understatement!
I am also incredibly pleased to confirm that our talented production team of Tamara Finch and Daniel Heskett have agreed to stay on and bring our 2021 event to life, and I can't wait to see the night of celebration and community that they are planning.
In the Name of Theatre – Book Launch
I was incredibly honoured to be asked to speak recently at the launch of Cheryl Threadgold's book; "In the Name of Theatre".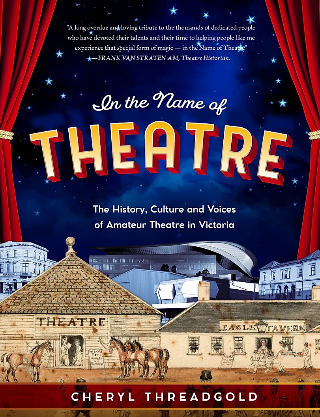 This beautifully presented book contains the history of amateur theatre in Victoria, commences in the 18th century in New South Wales and continuing through to modern-day. ​
Live cultural performances presented by First Nations People for over sixty thousand years are also respectfully acknowledged.
​The culture and voices of amateur theatre are shared in individual stories from 129 musical and non-musical amateur theatre companies currently operating in urban and regional Victoria.
It's a gorgeous hardcover book full of amazing stories and beautiful pictures, and I cannot recommend it highly enough to anyone who is a part of the theatre community. If you're interested in purchasing a copy for yourself or as a gift, you can get it direct from www.inthenameoftheatre.com.au
Judging Panel Update/Changes of Dates
Thank you all for your ongoing communications regarding any changing dates for your productions.
A reminder that if you have rescheduled dates for a production, please submit a new judging form.
I would also like to confirm that our junior and open panels of judges as appointed for the 2020 season will be continuing on in their positions through the 2021 seasons in light of the combined judging years. Towards the end of the 2021 season we will once again be opening for applications for the 2022 judging panels.
Many thanks for your ongoing support and resilience during this time, and I can't wait to see you in a foyer soon!
Cheers
Ang
President – Music Theatre Guild of Victoria